Chinese Feng Shui
Yuen Hung, Flying Stars, Chinese Astrology
Feng Shui
'fung – wind; schway' – water
property selection > location & direction

building renovation > planning & design
Feng Shui BUY/SELL Guide for Realtors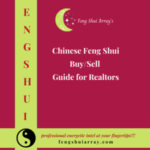 A timeless investment for your business… for only $29.00!!! Impress your clients while literally driving home the value!!! 
Use your Feng Shui BUY/SELL Guide for Realtors:
To ensure your client does not purchase a 'problem' property; and
To provide solutions if your client chooses to purchase a 'problem' property; and
To fast-track the sales cycle if you are frustrated/perplexed from relentlessly trying to sell a 'problem' property; and
As a proactive, time-saving tool that enables you to quickly assess and potentially weed-out a 'problem' property before you meet with your client; and
As a fun conversation piece while you shop for a property with your client(s); and
To attract and maintaining a solid client portfolio by marketing yourself as a 'Feng Shui Realtor'; and

As an educational tool for:
elevating your spirit;

 

jump-starting/polishing your

 

intuition;

 

flipping your lens on perspective; and

 

flow you forward with a fresh new set of positives, both personally and professionally.
It's only $29.00… ongoing value for you and your clients !!! CLICK HERE TO BUY.
Contact: Cheri Nichol 403-818-9890
*NOTE: WE ONLY ACCEPT ONLINE eTRANSFERS FOR OUR PROUDCTS/SOLUTIONS. Invoicing provided for billing/business purposes, if required. Thanks.
Personalized Feng Shui Gifts & DIY Guides
Perfect as a Realtor's gift for clients or for those who are curious or interested in learning/practicing Feng Shui in the privacy of their own home/business, independent of a Feng Shui consultant. 
Our DIY Feng Shui Gift includes a complete Feng Shui reading customized to your specific property location, direction and the life energy(s) of the owner(s)/resident(s)/tenant(s).
An 11-Step DIY Guide that reveals the presence of four good/bad star locations and teaches you how to promote the positives and subjugate the negatives, to improve health, happiness and prosperity in all aspects of your home/business! With your DIY Feng Shui Gift you can Feng Shui as you move-in, renovate or when you feel inspired to re-arrange/place your furniture/items.
Learn the Chinese Feng Shui logic/intel; how to derive measurements; and how to create a Bagua that works for other rooms/floors of your property. Each DIY Feng Shui Gift is uniquely dressed/presented and warmly blessed in Happy, heartfelt intentions. A gift that truly makes you feel very proud and excited, as the Sender. 
For your convenience, under that Happy umbrella, we also offer an extra array of unique Happy solutions/layers which also includes a variety of presentation/delivery styles… more look-good options should you wish to add to your cherished gesture and offering.
For yourself, a client, a friend, peer or family member, your gift truly makes a difference in the moment and in the long-term.
Our personalized DIY Feng Shui Gifts start at $300.00. Embark on your customized Chinese Feng Shui journey today…  
Email: info@fengshuiarray.com*
*NOTE: WE ONLY ACCEPT ONLINE eTRANSFERS FOR OUR PROUDCTS/SOLUTIONS. Invoicing provided for billing/business purposes, if required. Thanks.
find & keep YOUR best Love connections!

relationship building > improve communications / resolve conflict with friends, family




idenitify / improve relations with your perfect business partner

enhance management synergies

reduce us/them mentalities

improve employee disengagement / productivity
What is Chinese Feng Shui?
Chinese Feng Shui is an energetic intelligence & experience. It reveals the presence/power of energies & elements in relation to people, the planet & our Universe. It is a proven blend of science, astrology, Confucius teachings, the book of IChing & ancient wisdom & knowledge. IF proactively practiced by a true Chinese Feng Shui consultant, Chinese Feng Shui delivers long-lasting health, wealth & Happiness. It continues to prove itself as a reliable, accurate living strategy, decade after decade.
A Chinese Bagua is used to define the presence/ impact of prevailing energies & elements, within a specific residence/business. It also factors the life energy, 'Chi', of its owner(s)/resident(s) based on birth year, month & day.
Food & fashion & most typically home/business planning, architecture & design, are perfect art forms/mediums for proactively enriching lives & reducing/removing hardships/disasters. Chinese Feng Shui is a precise, meticulous science that can not generically assign specific life aspects such as career, family, education, etc., to specific locations/quadrants/corners of your property. As a scientific strategy, prevailing winds, stars, energy cycles, paths & patterns, are logical factors in our world of perpetual motion.
Further adding to the equation… people & pets are also energetic hosts, triggers & connectors. Every living entity has a unique energetic & elemental footprint that seamlessly feeds to our greater Universe. An extrovert or introvert; awake or conscious, positive or negative, in every way YOUR vibe & spirit, contribute!!! Of course, you must be factored!!!
Chinese Feng Shui has gained its credibility & successes through a clever conglomerate of energy intel, elemental design & placement; spatial relationships; +/- star configurations; & Yin/Yang polarities. I invite you to take advantage of all the proven positives… all the tangible assets… all the value you can not see!!! The testimonials are endless!
In Chinese Feng Shui, Happiness means feeling healthy at home and having no financial debt/worries on the outside. What's the hold??? Connect now… this stuff is truly life-changing/aligning!!!
Energetic Intel
Energy is everything everywhere & every body. It shows as a stagnate solid or an intangible flow in steady, perpetual motion. Energy is positive or negative and not always visible. Often you can feel it but you can't always see it or touch it. In reality, it is always present. Energy flows smooth & harmonious or aimless & chaotic.
Energies flow directly or indirectly; man-made or natural; generous or toxic; high-impact or subtle. Energy, be it positive or negative, truly is the Universal pipeline that connects all of us. A susceptible, tenacious playing field sensitive to on/off-the-ground shapes, synergies and trajectories.
Logically, energy is subject to the easiest path of resistance & very susceptible to many known triggers, conduits,, attractions & detractions such as wind, water, mountains, trees, rivers, structures & people. Energy cycles/paths/patterns provide the opportunity to proactively promote the positives & subjugate the negatives that would inevitably prevail without interruption. Fortunately, we have the ability to harness energy as a natural asset, directive & fast-tract.
Elemental Design
Chinese Feng Shui is based on Yin/Yang patterns/polarities; the 5 Elements Theory; the Heavenly Cross Theory and Earthly stems and branches. Keeping in mind there is no dark without light; no up without down, no in with no out, etc., Chinese Feng Shui is the balancing of 'elements' through creative, eye-catching designs & passions.
There are 5 natural 'elements' – water, wood, fire, earth, metal – each subject to their own attributes/properties. Elements are common amongst the Universal stars, people, properties & our macro/micro environment. In the energetic 'mix' of what is, people bear the fruits or the fallouts.
When it comes to energy flows, wind (Feng) and water (Shui) are glowing portals & channels. Fortunately, by understanding the shapes, layout & relationship of elements in our environment – mountains, rivers, hills, pastures, rural/urban buildings, infrastructures, etc., we are able to understand the influence on people, properties & the environment & the impact on lives & businesses. Using simple elemental techniques/guidelines, we can capture/deflect good/bad energy streams. Truly fascinating!!!
take advantage of what you can't see!!!
a space where east meets west… wisdom touches modern…
& science takes a dance with psychology & the heart n' soul of humanity.!!!
here… we flip the lens negative to postive, intangible to tangible, non-traditional to traditional & non-typical into typical
authentic   scientific    logical   astrological   intuitive